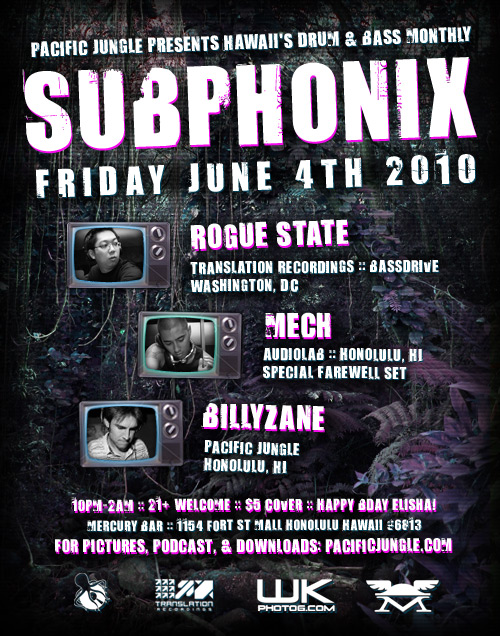 As we enter the hot months of summer, Pacific Jungle is heating things up at Subphonix this June with Translation Recordings label boss Rogue State! This busy and talented D&B aficionado out of Washington D.C. is continuously sharpening his skills with his weekly Bassdrive show, Translation Sound, where he features a wide range of music from classic tunes to forthcoming releases on Translation Recordings. Expect nothing less than musical excellence packed with dubplate exclusives from this forward-thinking DJ!
Subphonix resident BillyZane opens the night with his favorite dance floor rollers, and Mech wraps up the evening with a special farewell set before setting out to serve our country in the Army. This is a night not to be missed as we keep rolling out the low down beats!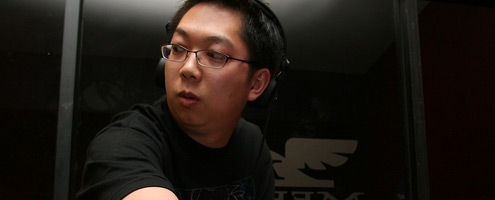 Rogue State
( Translation Recordings, Bassdrive, Washington DC )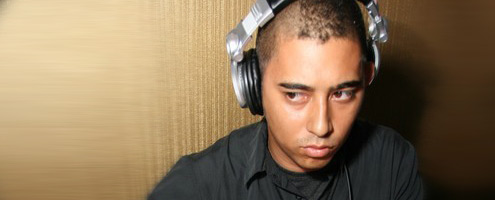 Mech
( Audiolab – Honolulu HI )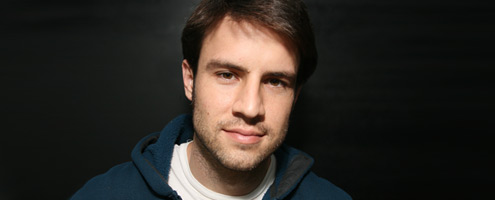 BillyZane
( Pacific Jungle – Honolulu HI )
$5 All Night
21+ Welcome
10:00 PM – 2:00 AM
Located at:
Mercury Bar
1154 Fort St Mall
Honolulu, HI 96813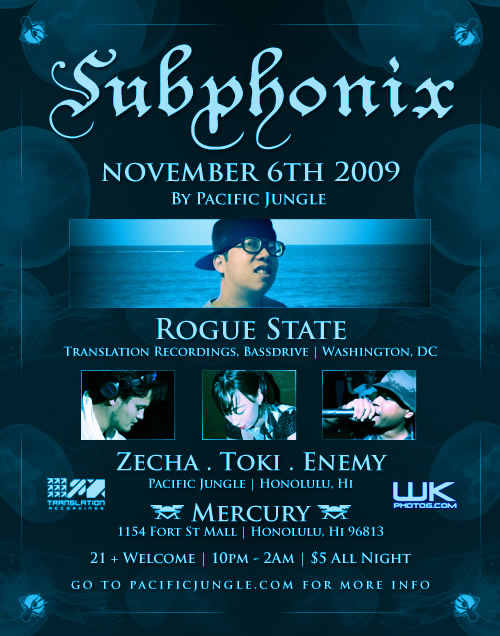 Pacific Jungle friend and longtime Subphonix favorite Rogue State is back in the islands to grace us with his dope beats at Subphonix on Friday, November 6th 2009. Running Translation Recordings (one of stateside Drum and Bass' most up-and-coming labels) keeps this man quite busy, so we're stoked that he still finds time to come out and spin for us. He should have a grip of dubs and exclusives from Translation, who have seen releases featured recently on Bailey's BBC 1xtra internet radio show Intabeats. You don't want to miss Rogue State!
Also, rounding out the night we've got DJ Toki kicking things off, getting back to some Drum & Bass after fidgeting about a lot lately. DJ Zecha is set to close the show out with a bit of the harder stuff. As usual, the vocal stylings of MC Enemy complete the evening.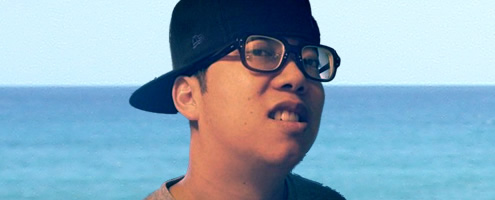 Rogue State ( Translation Recordings, Bassdrive, Washington DC )
11:20pm – 12:40am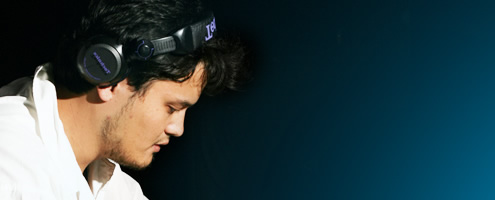 Zecha ( Pacific Jungle, Honolulu HI )
12:40am – 2:00am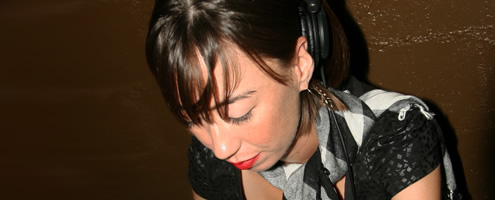 Toki ( Pacific Jungle, Honolulu HI )
10:00pm – 11:20pm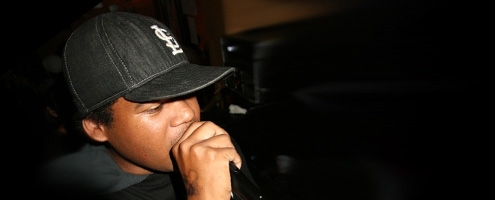 MC Enemy ( Pacific Jungle, Honolulu HI )
$5 All Night
21+ Welcome
10:00 PM – 2:00 AM
Located at:
Mercury Bar
1154 Fort St Mall
Honolulu, HI 96813