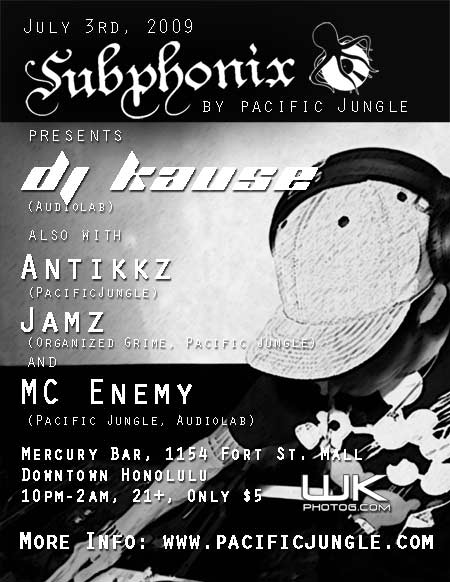 Get ready for the next installment of Subphonix by Pacific Jungle, coming at you this Friday, July 3rd 2009 at Mercury Bar in Honolulu Hawaii, starting at 10pm.
Kause ( Audiolab, Honolulu Hawaii )
After a two year hiatus from Hawaii's Drum & Bass scene, we're very excited to announce DJ Kause is back in action to headline Subphonix on July 3rd, 2009! If you don't know much about Kause, you don't know much about Drum & Bass in Hawaii! This man is one of the three founding fathers of the long-running Hawaii Drum and Bass promotion crew "Audiolab" in Honolulu, helping build the foundation for what has now evolved into a strong Drum & Bass community since its conception near the start of this last decade. This talented DJ's mix of tech step and old school jungle beats make him (and his sound) an irreplaceable asset to those in Hawaii who want to seek out a comprehensive history of where the music has come from, and where it's going. Having played along side such heavyweights as Ram Records' Shimon, Good Looking Records' LTJ Bukem & MC Conrad, Evol Intent, and Cyantific of Hospital Records (just to name a few), this guy knows what it takes to make your body move.
Antikkz ( Pacific Jungle, Honolulu Hawaii )
Pacific Jungle's longest standing original resident DJ sets the stage this Friday night with what can only be anticipated as musical excellence! This prolific musician / recording artist / DJ spends more time in his studio refining every aspect of his craft more than anyone else we know! As eclectic as his sound is (check out his myspace music profile here), this guy is notorious for dropping some of the heaviest, sickest Drum & Bass beats in Honolulu with surgical precision. Antikkz's set is one not to be missed!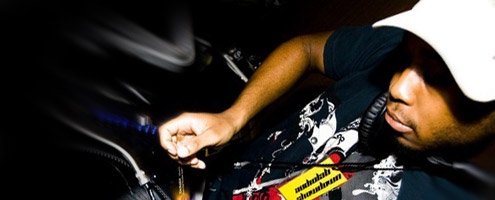 Jamz ( Organized Grime, Pacific Jungle, Honolulu Hawaii )
DJ Jamz graces the Subphonix stage with some of the darkest, most nasty Dubstep beats around, following what everyone would agree was Organized Grime's widely successful debut event, Speakers Corner! This success didn't come by chance, as Jamz continues to lead Hawaii into the great unknown of the Dubstep movement, alongside partners in crime, TKO and Thread. Jamz is constantly pushing his sound to new levels, and we expect nothing less this Friday night!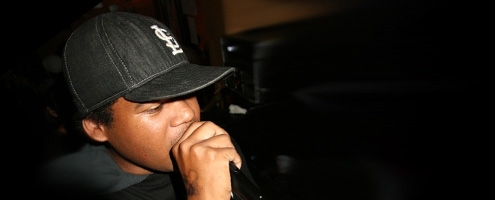 MC Enemy ( Pacific Jungle, Audiolab, Honolulu Hawaii )
Come see why MC Enemy is known in Hawaii as the must-have lyricist at virtually all the biggest and best Drum & Bass shows in town! Boh! With years of experience on the mic, and an ear for what's hot, this guy's flow is at its best!
$5 Cover All Night Long
21+ Welcome
10:00 PM – 2:00 AM
Located at:
Mercury Bar
1154 Fort St Mall
Honolulu, HI 96813