After what's already become the start of a great year for Subphonix, we have another big night of talented DJs to light up the stage. Los Angeles based DJ and scene veteran Jo-S headlines the show with a trail of success in the wake of his recent creative endeavors. With some of his work recently featured on DJ Friction's label Shogun Limited, Atlantic Connection's Westbay International, & Doc Scott's 31 Records, he's got a lot of hard work backing that success.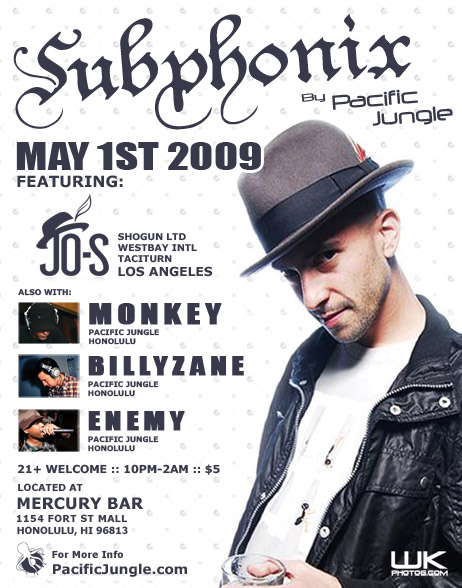 Jo-S
(Shogun Ltd, Westbay Intnl, Taciturn – Los Angeles)
http://www.myspace.com/djjos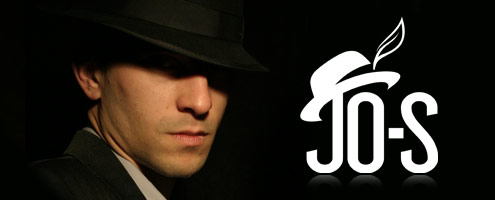 " […] jo-s began receiving international acclaim and is now sought after for his vocal talents. he was contacted by a prolific artist named lenzman representing out of the netherlands who is most notable for his releases on labels such as spearhead, phunkfiction and c.i.a. the two began collaborating on a tune called "emeralds" which was picked up by dj friction for release on his label shogun. when friction came to los angeles to perform at bassrush in january of 09′, jo-s was invited on stage for an impromptu live vocal performance of "emeralds" which is now a smash hit that sold out in less than one day when the promo was released.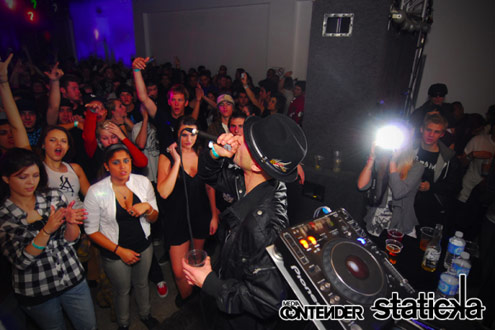 Photo: statika @ mediacontender.com
'i have never met dj friction before that moment. i was back stage watching hoping he would play my tune and at about 45 minutes into his set i heard him mixing it in. sp mc gave me a look and waved me on stage. as he passed me the mic friction stopped his set and dropped "emeralds" from the top! i nailed the verse and the crowd was really digging it. that was a huge moment for me. it set a milestone in my career. i am honored to have a tune signed to one the most highly regarded drum and bass labels. to have performed with one of the best dj's in the world was truley awe inspiring for me.' […] "
Pacific Jungle DJs Monkey & BillyZane open the night up with MC Enemy on the mic.