We'd like to make a big shout out to everyone who came out to Subphonix last Friday night to see Circuit & Whizard lay down an awesome set of rapid fire mixes and mind-blowing double drops! This was a big night for us and we had a good time with everyone who came out to get their bass on. The turn out was great thanks to you, keeping the dance floor filled with smiling peeps and bobbin' heads.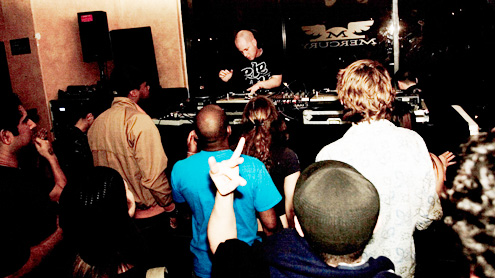 Circuit at the desks at Subphonix. Photo: wkphotog.com

Whizard mixes down another record.
Click on the image to view complete photo gallery of this event at http://www.wkphotog.com:
Make sure to check out Broken Liquid on Saturday, March 21st at Bar 35 featuring Saya, Toki, 45Revolver, and THD in the front room, along with Victor J, Monkey, Rythmstar, and TKO mixing things up on the patio with Dubstep, Breaks, UK Garage, and Glitch for starters. Get ready to get down.