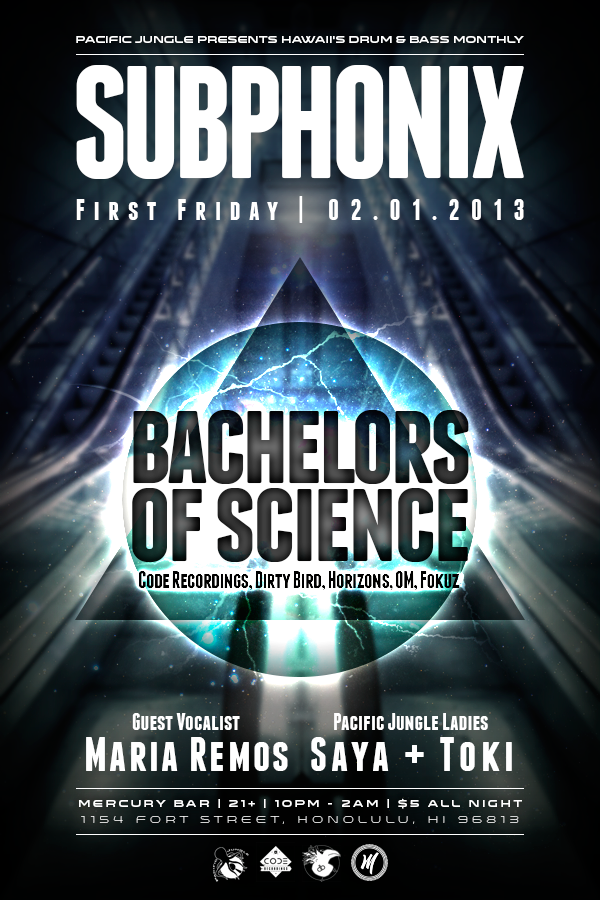 Join Pacific Jungle as we welcome Bachelors of Science (Code Recordings, Dirty Bird, Horizons, OM / San Fransisco) [Lukeino DJ Set]. We've been wanting to have Lukeino out for quite some time. Their sounds are amazingly beautiful, to say the least.
"As long-time residents of the weird and always unexpected city of San Francisco, Bachelors Of Science are renowned for mixing up and making unique blends of laid back, tripped-out, soul drenched tracks that are designed to be listened to as well as just heard on the floor. Choosing quality over quantity, they are regarded as one of the most consistently innovative and sought-after remixers and producers of the area, working with everyone from dance music legends Groove Armada and Paradox to indie darlings Home Video and Silver Swans.
With their own productions, the Bachelors continue to defy those that try to categorize them into a genre. From the deep liquid drum n bass inspired by their hometown of London and the likes of High Contrast and LTJ Bukem to the minimal inspired Autonomic sounds of dBridge and sun-drenched 4/4 grooves inspired by fellow SF locals… the Bachelors have retained their quality and a large and loyal following throughout, garnering plays from Annie Mac, Basement Jaxx, LTJ Bukem, Giles Peterson, High Contrast, Loxy, Doc Scott, DJ Hype, Reid Speed, Alix Perez, Grooverider and DJ Marky.
Lukeino will take you on a journey…making d&b guys admit they've got a soft spot for 4/4, and house lovin girls admit they miss drum n bass."
Joining Lukeino is Hawaii's own, Maria Remos, who has recently been collaborating with Bachelor's of Science.
"Maria "Songbird" Remos may spend her time frolicking in San Francisco,but O'ahu, Hawai'i is home. Starting out with improv jazz, Maria hasdeveloped her sound to include an eclectic mix of soul, hip hop, jazz,and reggae. This lady is super versatile with an incredibly pleasant voice that just rests on you. Maria recently hit the studio with Bachelors of Science and the result was a stunning piece of liquid called "Morning Sun" which was released last year on Code Recordings, as well as a forthcoming halfstep track called "What We Need"."
Also on the night, Saya and Toki will be kicking off their birthday month with their own style of bass-ridden liquid funk. Come celebrate with all of us!
1st Friday – Feb 1, 2013
Mercury Bar
Downtown HNL
Chaplain Lane
$5 all night
10pm-2am
21+ please