Pacific Jungle is super stoked to be working with Westbay Music Group and thirtyninehotel, as well as Nu Soul Magazine to bring you a little something different. This summer seemed a nice time to step outside of our little DnB Box and step into the sun with some extra fresh beats from all around the world. ("Don't Sweat It" though, Saya says there will be lots of Brazilian DnB for all you heads to get a little fix while rockin your shades!)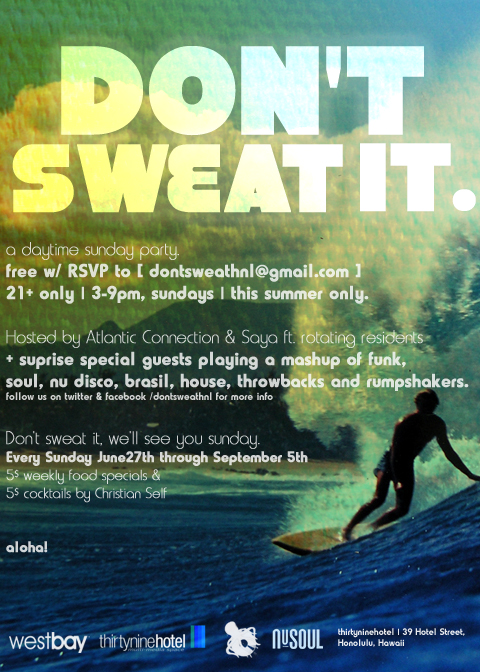 Westbay's boss-man, Atlantic Connection played Subphonix last December and loved Hawaii so much he's here in Honolulu for the summer kickin it with the Pacific Jungle crew.

"I wanted to create an afternoon of brasil, soul, nu disco; good vibes, throwbacks, eclectic people, dope sunglasses & cool t-shirts. Over the past year I've had the pleasure of working closely with Norman Mayers of Nu Soul Magazine LA (one of the most talented event coordinators in southern California) doing my LA event Soul Good and it's schooled me on how to develop an event like this from the ground up. I got to Hawaii in early May and thought, what am I gonna do this summer? Being from LA I was spoiled with options, which spur ideas in places that aren't so flooded with scenes, so I said hey, let's create a day time outdoor party but bring totally new qualities and details to the event unique to local promotions. So I called my good friend DJ Saya at Pacific Jungle to get her input and advice on doing something like that here. We teamed up, scouted locations citywide and fell in love with thirtyninehotel – felt it was the perfect venue for this style of event…well here we are, ready to rock. . I can't wait."
AC and Saya will be your hosts for the summer with rotating residents including 45 Revolver, Ramyt, T.K.O. and Jamz. Special guests will be rolling through from all over to lay down some extra special sets, but you gotta pay attention 'cause we're not announcing them til the last minute.
Check it all out online here:
Don't Sweat It Blog
Don't Sweat It on Facebook
Follow Don't Sweat It
Be sure to add us to your facebook and your twitter as special guests, drink specials, food specials and more will all be announced the day before.
Things kick off this Sunday, June 27th, the official first Sunday of the summer and we won't stop until Sunday September 5th. This Sunday, we're all thinking "Summertime Freshness", so dress and vibe accordingly.
RSVP to dontsweathnl@gmail.com to get in for FREE, otherwise it's $5 at the door.
3pm-9pm, 21+
*Atlantic Connection recommends you all wear your sunglasses.*
Be sure you smile as WKPHOTOG will be on deck to catch you at your freshest!
This summer, we got your Sunday's sorted. Don't Sweat It!
Also, one last thing, YOU can come around back through the alley…