Pacific Jungle's Memorial Day Weekend Stimulus Package!!! Check it out: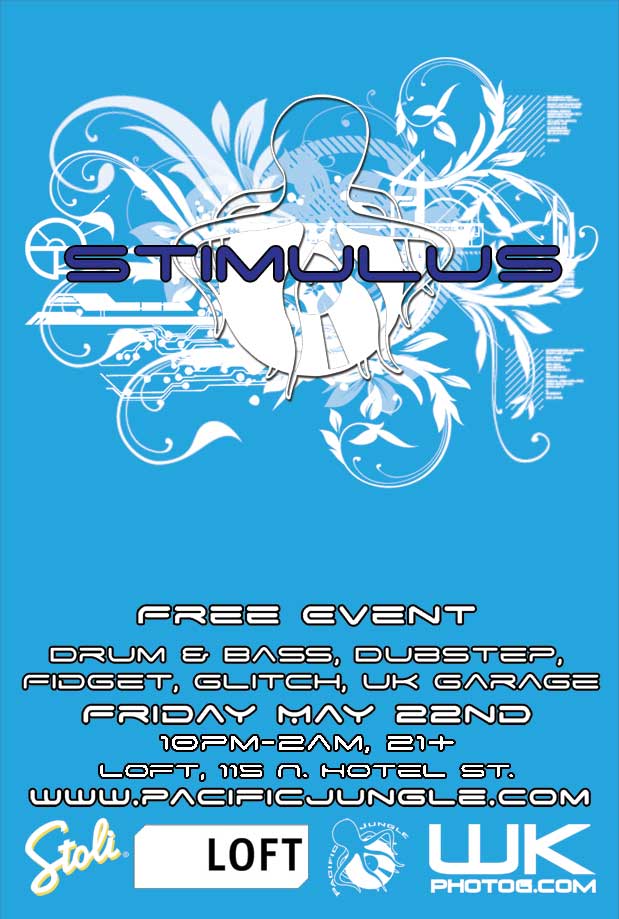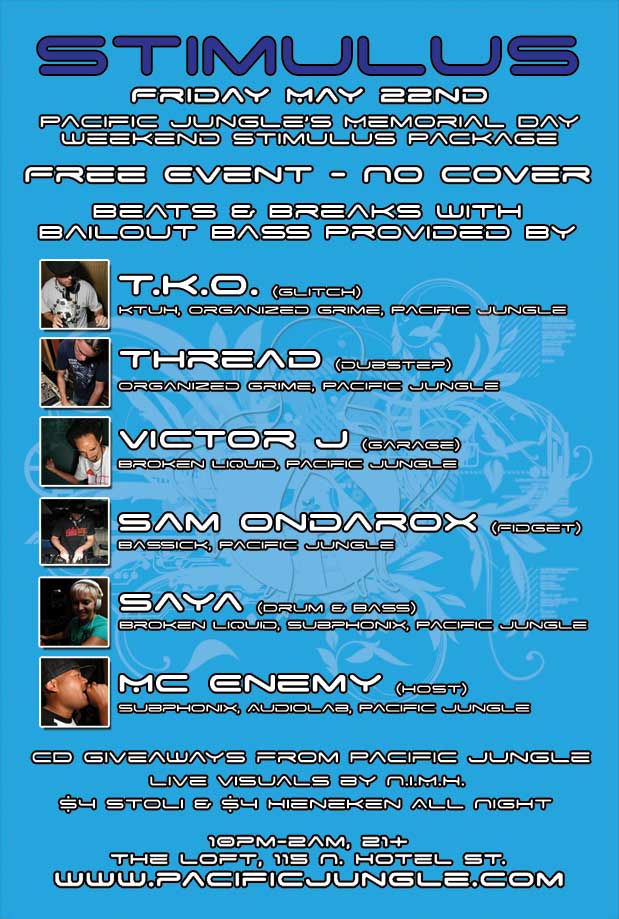 The Lineup…




T.K.O. – GLITCH – KTUH, Organized Grime, Pacific Jungle – T.K.O. is one of Honolulu's strongest proponents of emerging genres of EDM, such as dubstep, grime, and glitch. He's put down a few absolutely mad glitch sets at Broken Liquid and expect even more madness from the man at Stimulus!


Sam Ondarox – FIDGET – Bassick, Pacific Jungle – So you say you like your Drum & Bass and Dubstep, well, you've never heard "house music" like this. When Sam Ondarox gets on the decks at Stimulus, get your bassfaces on cause you're gonna give 'em a workout. Nasty-noises will abound!


Victor J – UK Garage – Broken Liquid, Pacific Jungle – Seeming at times to have musical A.D.D., this man will play anything from dubstep to breaks to trance to hip hop, but he's quite possibly one of the only DJs in Honolulu brave enough to lay down a real UK Garage set. You'll hear this stuff nowhere else on this island!

Saya – Drum & Bass – Broken Liquid, Subphonix, Pacific Jungle – This is a Pacific Jungle event after all, so there must be some Drum & Bass somewhere, right? Saya will come with a crazy track selection, playing everything from the liquidiest liquid to the techiest techstep. She's been in the lab mixing up some free CDs too, so don't forget to grab one!


Thread – DUBSTEP – Organized Grime, Pacific Jungle – One of Pacific Jungle's artists from way back, we've seen Thread migrate from Ragga Jungle to Dubstep becoming one of the founders of Honolulu's Dubstep movement. We hear he's been hoarding the new tunes, just waiting to unleash the bass for Stimulus!


MC Enemy – THE HYPE, THE LYRICS – Audiolab, Subphonix, Pacific Jungle – One of Honolulu's greatest MCs for any genre, this man loves his Drum & Bass and Dubstep. Come and hear him flow, you'll be amazed!
LIVE VISUALS by N.I.M.H.
$4 Stoli & $4 Heineken ALL NIGHT LONG!!!
10pm til 2am @ The Loft – 115 N. Hotel St, Downtown Honolulu
And it's FREE